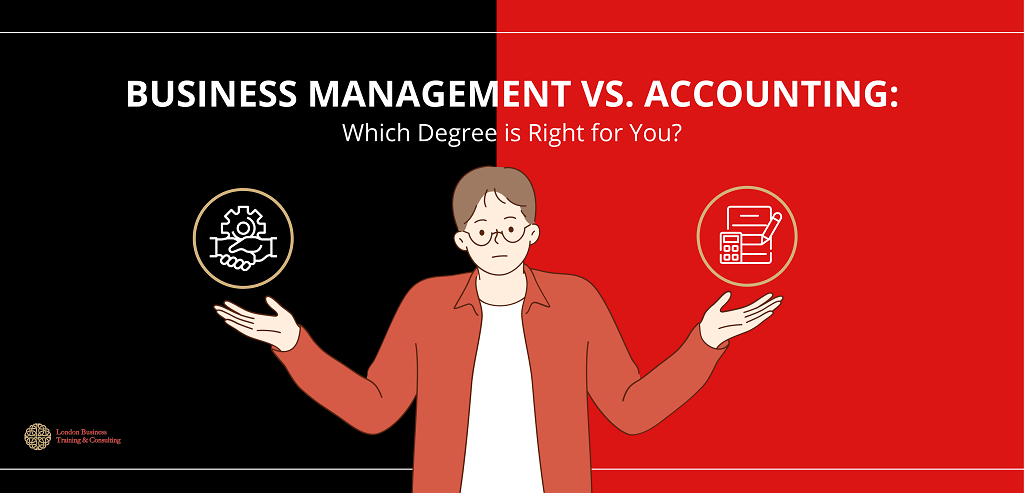 Once you are sure that you want to have an exemplary career in the business field, once you notice the broad career categories, your clarity will slowly start to fail. Business is a broad field that spans different specialised expertise. Therefore, before you begin making any education or career plans, this will help you funnel down a path that is suitable for your goals.
The two career options, business management, and accounting are the best choices to narrow down your career path. In this blog, we will compare business management with accounting to gain a better perspective regarding the differences between these two choices and their similarities. This will help you to discuss what the best option is for yourself.
How do roles and responsibilities differ in Business Management and Accounting?
A general management role is a usual starting point; professionals in business management are accountable for supervising and leading a group of people in an organization. The day-to-day tasks may include assigning work to people in the team and creating a budget for the projects. The most important thing is to stick to the deadlines.
Managers are required for many different roles, including sales, marketing, design, and human resources (HR). Possible business management job titles are usually limited to:
Sales manager
Marketing Manager
Project manager
Retail general manager
Now, after completing the financial accounting course, in accounts, you will be responsible for maintaining financial records in order, generating financial reports, and checking the financial data to assure all operations are within budget. Accountants need to spend the first few years focusing on numbers. Later, as you advance in your accounting career after the financial accounting course, you will gain more exposure to operations aside from finances.
Accountants can also specialise in private or public accounting, auditing, and taxes. Possible accounting job titles are:
Tax accountant
Internal/external auditor
Public accountant
Management accountant
Work culture and environment: Business Management vs Accounting
Business management and accounting careers are usually interchangeable as they share similar work cultures.
Business management and accounting careers may seem interchangeable because they share a similar work milieu. Big and small corporations are always searching for skilled accountants and strong business leaders. However, it's not always these two roles that have the same work environment. 
Our experts say business managers need to work on a daily basis in an extremely collaborative work environment that demands intense communication.
Whereas accountants are likely to work solo. However, this does not mean they never work in collaborative meetings, audits, creating reports, and other projects all need some level of teamwork involvement. Unlike business managers, accountants don't need communication every minute or hour of the day; rather, they will complete their work on their part.
The work-life balance is also very different in both roles. Business managers are an important aspect of any department, and they have a steady workload with occasional crunch times as they reach project deadlines; accountants have a slow work-life situation. They are busy during the financial reporting season. This is the one major difference.
Salary scale in Business Management and Accounting career
Job stability and salary expectations are two major considerations when looking for career options. When people debate these two career options, they know both options have solid prospects. The Bureau of Labour Statistics (BLS) reports that employment in management fields is going to excel from 2019 to 2029.
If we narrow this field further, individual business management titles have higher potential. The salaries of business managers are going to soar in the coming years.
Accountants and auditors are also experiencing job growth. Their average salary is suitable for aspirants' expectations, and it is known to grow more.
Skillset needed for Business Management and Accounting career
Management and accounting careers demand different skill sets in terms of technical and soft skills. The most commonly required management skills globally are mentioned below.
Required management skills
Budgeting
Business administration
Project management
Customer service
Scheduling
Accounting
Sales
Business development
Staff management
Customer contact
Required accounting skills:
Accounting
Budgeting
Financial reporting
Financial statements
Generally accepted accounting principles (GAAP)
Account reconciliation
Financial analysis
General ledger
Business administration
So, you can see the overlapping skills; if you are still confused, remember that soft skills are very essential. These soft skills could be a deciding factor in these fields.
Education criteria
Finally, we would also like to compare the education for both careers. Keep in mind that both careers need a college education; you can prepare for one of these careers after an Associate's degree. However, a bachelor's degree is better to level up with these careers.
Business Management courses
Introduction to Business Analysis and Intelligence
Introduction to Functional and Project Management
Business Law and Ethical Behaviour
Emerging Trends, Markets, and Technologies in Business
Strategic Management
Accounting courses
Principles of Accounting
Financial Investigation
Risk Management for Accountants
Cost Accounting
Corporate and International Accounting
Conclusion
We understand that deciding on a career is hard. Still, by researching and understanding some facts to filter your options, we think you have a piece of relevant information regarding business management and accounting to make a clear choice! Go ahead with what you like the most.