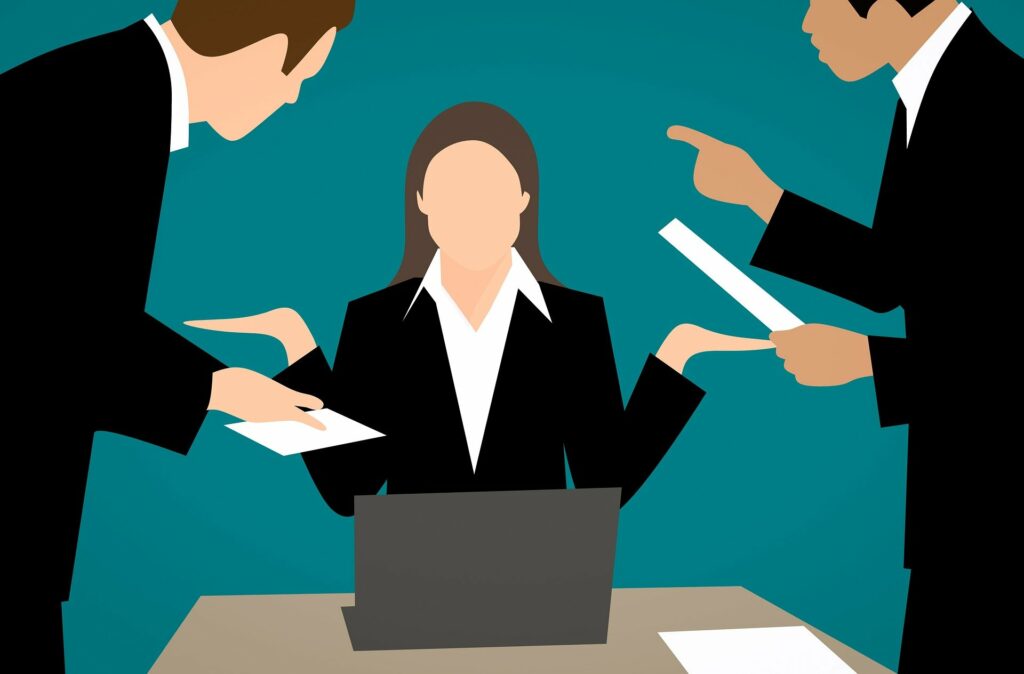 Side-stepping conflict in the workplace is not a sign of a good leader. Actually, avoiding disputes, sweeping it under the rug, will grow into something much more destructive and simply help it fester than had you dealt with it head-on.
A necessary role of leadership is dealing with conflict. When you get a group of people daily working together, a dispute is certain to happen. The employees you so carefully showed while hiring interviews aren't immune, either. Unfortunately, polished interview responses do not guarantee a harmonious workplace.
Workplace conflict can take place in a variety of ways- between two employees, among the entire team or between supervisors and the team members they manage. As hard as the problem might seem in the moment, resolving team conflict is possible.
1) Forget about winning or being right always:
When it comes to handling the conflict at work, the only victory is a mutual one, which results in de-escalating, new common ground and resolution. Observing the person (or team) on the other side of conflicts as your opponent will downfall both parties to remain, adversaries, as well as undermines the following dispute resolution ways that raise the possibility of a mutually beneficial outcome.
This can be hard, particularly if you have a history of butting heads. If the conflict is repeating, never mind how small, makes this concept all the more important. Conflict, when approached in a particular mutual atmosphere, can bring better insights about your team or client's expectations, communication styles that can arm you with the best information to find a resolution that is best for the client, the team and the project.
2) Look for a root cause, instead of blaming a person:
As a leader, you must be knowing well that people make mistakes, as you are often the team member that catches them. Concentrating on a person's mistake is feasible devoid of going as far as to place blame, and this can be done by looking at the point in the process where this mistake was made. Basically, focusing on the process averts mistakes in the future, leaving your team confident that you have their back when things go awry. In the end, every individual makes a mistake- even leaders.
3) Provide guidance:
You being a leader, there are times you may need to mediate work conflict. Do not take sides, ever. Understand you are there simply to help your employees work out their problems. You might require to guide the conversation. And if hurt feelings run high, it is likely you will expect to divert the topic, so your employees return to the actual issue. As a leader try to give suggestion on the next steps, highlight the positive aspects of the process and advice related topics or actions they can work through after the meeting.
4) Collaborate with the other party to help handle the conflict:
A number of workplace conflicts are borne of misunderstandings because of different communication styles. For instance, you said one thing and a coworker might interpret it differently than you intended. It is unavoidable since the digital world means that we are continuously messaging on slack, working far away, and possibly haven't met some of our team members in person. This can aggravate the pitfalls of interpersonal and particularly team conflicts resolution, where there are more diverse personalities, communication preferences, and therefore more opportunities for communication breakdown and conflict.
Requesting the other party to collaborate provides them an olive branch, viewing that you are open to their requirements, and willing to listen to them. This may actually allow them to deliver some actionable insight on how to best communicate with them, and general approach team conflict resolution.
5) Meet face to face:
A number of introverts may shudder at this one, and sensibly. Dealing with conflict in person can be pretty tricky, and comes with a few cautions, but is nevertheless incredibly essential to support other conflict resolution technique.
Conclusion:
Till the time you work with a team, it is obvious for you to deal with conflict as a leader. Reinforcing your conflict-resolution skills can prove your leadership qualities in your organization. These moments can be an excellent opportunity for your team to grow and strengthen. Your team is counting on you to assist them in resolving issues and keeping organizational morale up. As a leader, you can also expertise your skills by opting learning and development course.