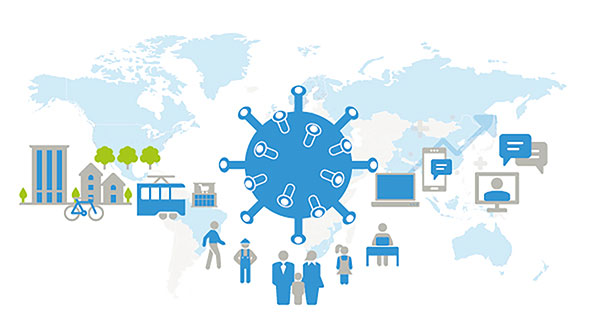 Throughout history, there have been significant events which have altered the ways humans interact. This is applicable for training and development too. The industrial revolution in the early 1900s led to the rise of OJT (on-the-job training), which is still followed to date. The rise of the internet saw people seamlessly interacting with their trainers through different platforms and technology.
Coming to 2020, COVID-19 saw the growth of social distancing. Office spaces, restaurants and most streets were rendered empty due to the pandemic. And it also altered the path for management course training and development for professionals as well as learners.
Socially distant training in the workplace:
With social distancing becoming a strict norm, many workplaces are operating with employees at a distance. Many organisations who need employees to be physically present at their offices need to be prepared to combat this infectious disease through social distancing, staggered work shifts, downsizing their operations, making work-for-home available for employees who can make it happen from the comforts of their home and other exposure-reducing measures. It is also recommended that organisations minimise their contact between their worker, clients, customers and others by going virtual with their communication methods. Most organisations are requested to support remote work as it is the safest bet.
This makes training and development at a workplace a scrambled issue. Most management training is designed to be delivered by an instructor by interacting with his/her participants. Instructor-led training has been the norm for quite some time, but the pandemic has changed the way we interact. We need to reskill through new remote platforms and training sessions. Virtual training sessions are an option, but the instructor will have to be more interactive with his sessions as the entire event is virtual. Engaging in questions and answers, more polls, using more visual aids, making use of videos and breakout sessions are essential ways to keep the audience engaged through a virtual platform. Trainers are also required to offer regular breaks to the participants to avoid screen burnouts.
Also, trainers will have to accommodate more sessions as smaller class numbers will be required to maintain social distancing. There will be a change in the way the classroom is positioned. Instructors will no longer be able to approach their participants so as to maintain social distancing.
Training through new technologies:
Trainers for management courses will have to embrace new technologies. Virtual training will always be a way to keep the training direct and to the point to keep the learners engaged and attentive. The new technologies will enable learners to stay engaged, learn through innovative ways and upskill to a whole new level. 
This could be the next significant event in the management course training industry. 2021 will see how businesses and training industries adapt to the new normal. 
For any training session, virtual or classroom-based, feel free to give us a call, and we can hook you up with a free consultation.