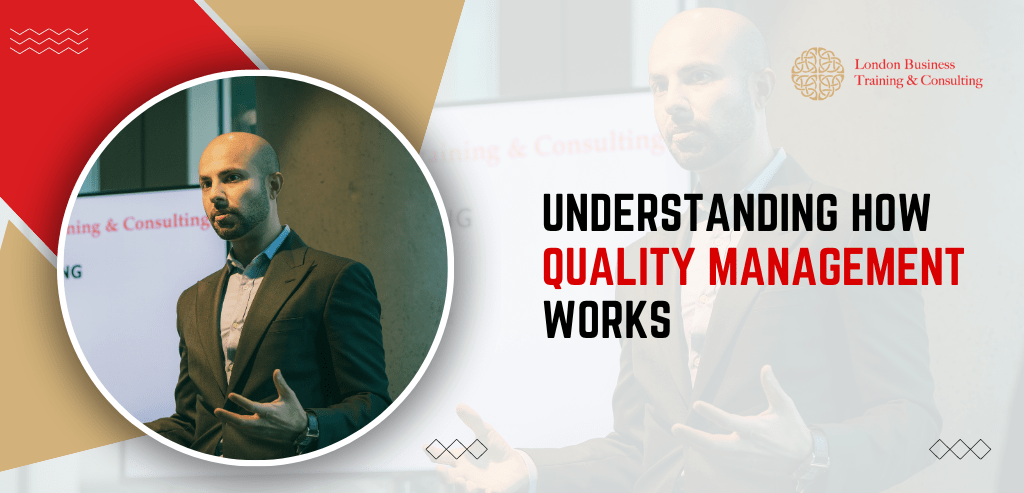 Monitoring various organisational processes and tasks to guarantee that the goods and services provided, as well as the methods employed to feed them, are consistent is known as quality management. It aids in achieving and preserving the organisation's intended level of quality.
Quality management consists of four crucial elements, which are:
Quality planning determines the quality criteria that apply to the project and how to satisfy them.
Quality improvement is the deliberate modification of a procedure to raise the certainty or dependability of the result.
Quality control is the ongoing endeavour to maintain the dependability and integrity of a process in producing an outcome.
Quality assurance is a systematic or planned effort required to provide enough dependability so that a specific service or product will fulfil the stated requirements.
To achieve the long-term success that results from customer satisfaction, quality management seeks to ensure that all of the organisation's stakeholders collaborate to enhance the business's procedures, products, services, and culture.
To ensure that the goods and services they produce meet the necessary criteria or are appropriate for a given purpose, a team develops standards as part of the quality management process.
The procedure begins when the organisation establishes quality goals that must be achieved and which the client has approved.
After that, the organisation specifies how the goals will be evaluated. The system carries out quality measurements and makes necessary adjustments upon detecting any quality issues.
Reporting the overall degree of quality attained is the last stage.
The procedure ensures that the team's goods and services meet customers' expectations.
Methods for Quality Improvement
Three elements comprise quality improvement methodologies: product, process, and people-based improvements. There are several approaches and procedures for quality management that can be used. They include, among others, TRIZ, BPR, OQRM, ISO, Top Down & Bottom Up methods, Taguchi Methods, Six Sigma, Quality Circle, Kaizen, the Toyota Production System, and Zero Defect Programmes.
Example of Quality Management
Toyota Corporation's use of the Kanban method is a prime example of excellent quality management. By giving suppliers and customers visibility, Taiichi Ohno devised the inventory control method known as kanban, which helps to prevent the accumulation of surplus inventory on the production line at any one time.
The fundamentals of quality management
The International Standard for Quality Management embraces several quality management principles. Top management uses these tenets to direct an organisation's operations toward enhanced performance. They consist of the following:
Principles of Quality Management:
1. Customer Focus: Organisations should prioritise meeting and exceeding customer expectations to drive loyalty, revenue, and satisfaction by understanding current and future customer needs.
2. Leadership: Effective leadership establishes unity, purpose, and a thriving company culture, engaging employees in setting clear goals and objectives to improve productivity and loyalty.
3. Engagement of People: Involving and empowering employees in decision-making, recognising achievements, and promoting skill improvement leads to enhanced performance and accountability.
4. Process Approach: Emphasising efficiency and effectiveness in organisational processes enhance consistency, speed, cost reduction, waste elimination, and continuous improvement.
5. Continuous Improvement: Organisations should actively pursue ongoing improvement, embracing flexibility and seizing new opportunities by creating and adapting processes.
6. Evidence-based Decision Making: Utilising verified and analysed data for decision-making enhances understanding, performance, and the ability to anticipate potential consequences.
7. Relationship Management: Establishing mutually beneficial relationships with suppliers and stakeholders optimises their impact on organisational performance and fosters sustained collaboration and success.
Quality Management's advantages
The tasks and activities involved in creating goods and services aid an organisation in achieving more consistency.
Using it helps to optimise the use of time and resources, increases process efficiency, and reduces waste.
It enhances client pleasure.
Businesses can use it to sell their products and exploit untapped markets efficiently.
Businesses may integrate new hires more efficiently as a result, which facilitates more fluid growth management.
It enables a company to enhance its systems, procedures, and goods continuously.
To sum up
Quality management is essential for a company to maintain consistency across its processes, goods, and services. Customer satisfaction is crucial in business. At LBTC, we offer comprehensive quality management courses that empower individuals to master efficient quality management techniques. Join us to enhance your knowledge and skills in maintaining exceptional quality standards, ultimately fostering customer trust and business growth. Sign up today and unlock the keys to effective quality management.