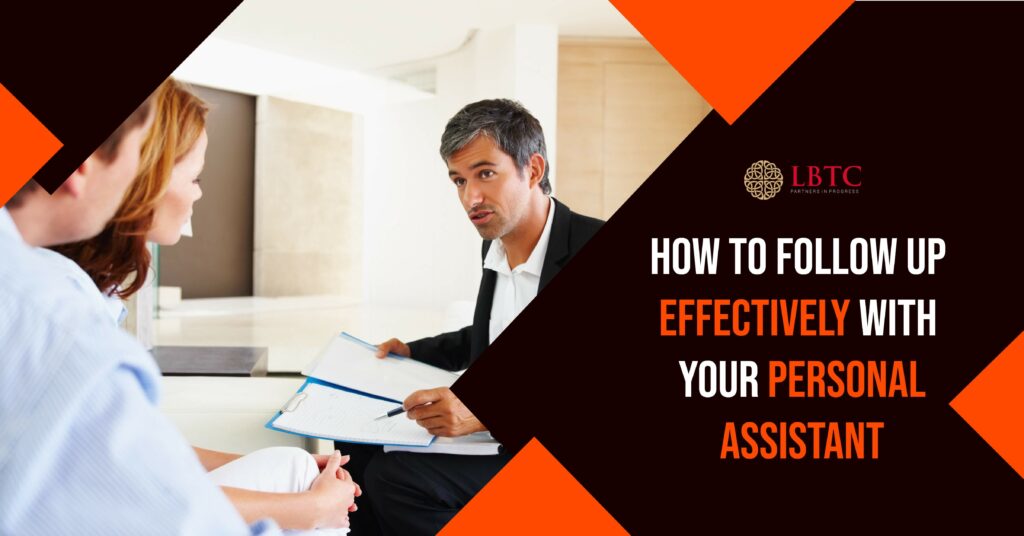 There are many potential benefits to hiring a personal administrative assistant. For one, they can help you become more organized and increase your productivity by relieving you of the burden of menial tasks that don't require your direct involvement. But in order to reap these rewards, you need to be proactive about communicating with your personal assistant in order to avoid any miscommunications or missed opportunities. To follow up effectively with your personal assistant, try these eight tips.
1) Make the initial contact
It's vital to make a positive first impression. Try to contact your personal assistant at an optimal time (i.e., not at lunch or right before his or her birthday). A quick call may be all it takes, but don't assume anything and always follow up in writing.
2) Let them know what you need
This might seem obvious, but if you don't let your personal assistant know what you need from them, they can't help you. Communication is key. Without frequent and clear communication, your chances of success are very low. Make sure to get in touch with your assistant as often as necessary and make your expectations clear—and then follow up to see how they feel they did.
3) Check-in consistently
Whether you're in a personal or professional relationship, establishing healthy communication habits is crucial. The person handling your assistant work must be able to anticipate your needs and feel confident about his or her ability to provide support. So don't hesitate to set up regular meetings to check in on how things are going—be it once a week, once a month, or whatever works best for you. If meetings aren't feasible, communicate via email or phone at regular intervals.
4) Be clear about deadlines
No matter how busy your personal assistant is, it's essential to set clear deadlines and expectations. If you don't expect them to work with a deadline, they will continue to put things off until they find their own time crunch—which is probably when you need them most.
5) Offer recognition
A simple thank you to your personal assistant is one of the best things you can do. Not only does it let your assistant know that they're appreciated, but also it reminds them of how valuable they are and can help motivate them even more. Everyone likes to feel valued; take a few minutes each week to recognize and show appreciation towards your assistant.
6) Use positive language
Rather than saying don't forget, say please be sure to remember. This shows your trust in your assistant and helps her feel more comfortable about her job. When you use positive language, you also end up sounding far less bossy and overbearing.
7) Create boundaries and respect them
Remember, your assistant isn't a servant; he or she is a professional and should be treated as such. Keep in mind that you can still get chores done while treating your assistant as an equal; they won't do something if it doesn't fit into their daily plan. This applies to responding to emails as well. No one likes getting flooded by emails, so make sure you follow up effectively and keep communication lines open.
8) Follow up even after the task is complete
As a self-employed entrepreneur, you may not always have direct oversight over your personal assistant's workload. After all, an executive assistant needs to prioritize and process his or her workload as soon as possible. That said, there's still value in following up with your assistant even after a task is complete; in fact, doing so will ensure tasks are completed accurately and in a timely manner.
In the end, enrolling your personal assistant for LBTC's personal assistant training can help him/her to upskill their talents and be better at their job.