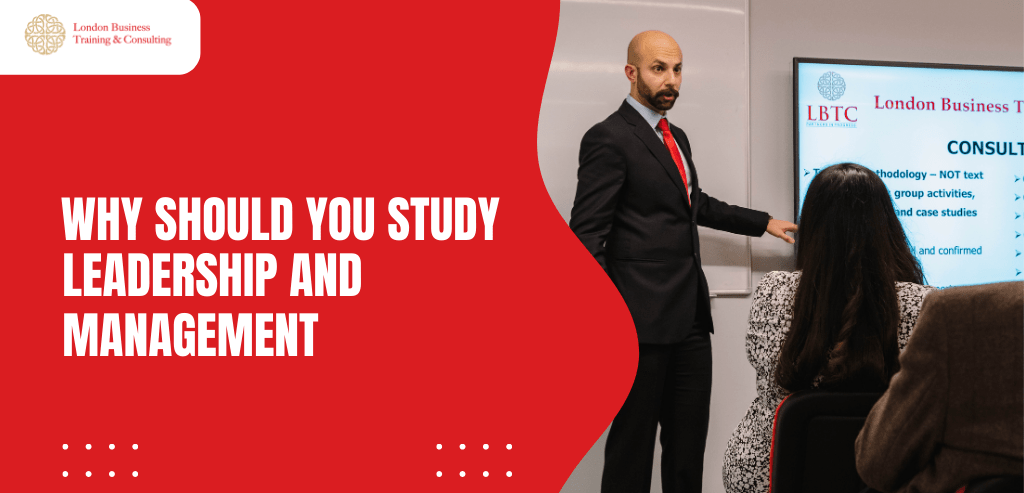 In the corporate sector, "leaders" and "managers" are frequently used and occasionally synonymously. Many people believe that management and leadership are mutually exclusive, but others contend that both fields need similar traits. Therefore, you can see supporters on both sides of the leader vs manager argument.
If you want to understand the distinction between management and leadership, keep reading. It examines the meanings traditionally associated with both fields, enumerates their differences, emphasises the benefits of enrolling in leadership and management courses, and notes the commonalities.  
What does leadership mean?
Leadership is inspiring a group to work towards a common objective. Leadership sometimes includes pushing limits and taking calculated risks to turn a vision into reality.
This entails inspiring staff to achieve the organisation's objectives in a professional setting. Inspiring, effective communicators who are honest with their followers and can think outside the box are all qualities of exceptional leaders.
What is management?
Management is the process of attaining an organisation's objectives by effectively using available resources in a changing environment. Said management is the process of using the resources at hand to accomplish challenging goals.
Good managers need to be strategic thinkers to transform ambitious ideals into attainable goals. They must set up rules and regulations for the workplace, specify the parameters and details of the operational procedures, assign duties to workers based on their skills, and follow up to verify that the goals are achieved.
What distinguishes a leader from a manager?
Management and leadership roles cannot coexist. The following details some minor variations between the two.
1. A management plans and a leader innovates
A leader's job is to generate fresh concepts or inspire followers to develop creative thinking techniques. Leaders always look ahead; they think about the organisation's and their team's future. Being a leader allows you to challenge the status quo by putting forth unconventional ideas.
Conversely, a manager's role is to remain realistic and separate ideas into what is doable and idealistic. They keep the current system in place by controlling staff, processes, and deadlines. A manager must be realistic to ensure that goals are achieved with the resources at hand.
2. A manager is more accessible to workers than a leader
A leader may have numerous apprentices, but this does not always indicate that they are close to them. The role of a leader is to motivate and inspire the team to perform at their highest level.
However, supervisors will frequently interact with their staff. They will consequently be considerably more aware of their assets, liabilities, aspirations, and objectives than leaders. This aids managers in honing their management abilities and bringing out the best in their team.
3. A manager asks "how" and "when," whereas a leader asks "what" and "why."
Questioning an organisation's current state of affairs may be necessary for effective leadership. Leaders must evaluate and examine business failures to develop plans for future successes.
However, managers typically focus their questions on the steps necessary to put the idea into practice and the implementation deadline.
Benefits of participating in leadership programmes
You will be qualified to apply for C-suite executive positions in renowned MNCs and other significant corporations with a master's degree in leadership. If you'd prefer to work for a start-up, many companies are always looking for qualified people to guide them through the challenging process of organisational development.
After completing these programmes, you can handle challenging targets, settle disputes, and effectively manage teams. These traits will make you a desirable resource for businesses with organisational problems. Transformative skills are taught in leadership programmes, enabling you to succeed in any industry or profession.
Benefits of management study include:
Business management programmes teach students to work under pressure and efficiently use resources in frequently disorganised settings. Additionally, they provide transferable abilities that are more beneficial in various vocations than managerial ones.
During management courses, students gain the skills they need to construct successful careers in nearly all industries, including finance, healthcare, social services, transportation, and human resources.
Following graduation, you can obtain advanced degrees like a PhD or post-doc.
The fusion of management and leadership
Even though managers and leaders frequently have different skill sets, it is preferable to have a skill set that enables you to succeed in both roles. In addition to their routine responsibilities, managers frequently need to use their creative thinking to develop novel strategies. They should be able to give their staff members the confidence they need to become strong leaders.
On the other hand, to thrive in the corporate world, leaders must also learn fundamental management skills, including budgeting, hiring, addressing employee complaints, and distributing responsibilities.
The London Business Training & Consulting offers quick growth packages in leadership and management courses if you want to specialise in one of these fields. The leadership development curriculum strongly emphasises increasing your strategy-creation and communication abilities. The programme is perfect for managers or executives who wish to improve their organisations. The LBTC's management development programme is designed to get you up to speed on the most recent developments in management fundamentals and prepare you for the fast-paced business and management environment. Click here to learn more about the courses.