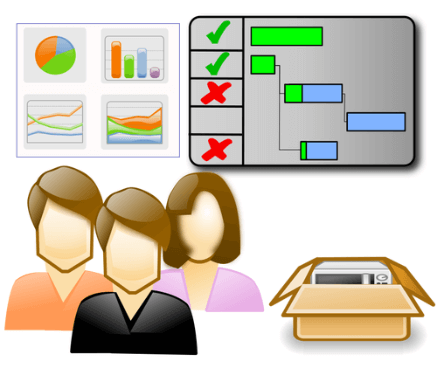 Throughout our whole lives, we are tasked with activities like group projects, science fairs, party planning, etc. All these projects build essential skills in organisation, leadership and quick thinking. Though we dive straight into an activity without any formal experience in project management courses, imagine how different, competent, efficient and prudent it would have been if you had the necessary project management skills.
No matter if you are pursuing your career in project management or not, certifying yourself in project management can positively impact your success in both your personal and professional life.
1. Faster goal accomplishment:
Project management is the practice of converting ideas into reality. Coming to terms on how the pros plan, budget, and prioritise their projects can help you achieve the same in your personal and professional life. Trying to achieve a goal without a proper plan can set you back by hours, weeks or even by months. However, if you work towards your goals the same way a project would, you will be able to prioritise your tasks better and create an actionable map to achieve your goal swiftly. Such plans will help you to foresee your challenges and avoid them.
2. An upper edge:
Project management has a never-ending demand. Industries such as engineering, healthcare, financial services, technology, and law require people who have a high level of organisational and leadership skills. Skills that project managers are trained to develop. Undergoing project management training courses will get you access to tools and provide you with the know-how to drive results, thus giving you an edge over your competition.
3. Better quality of work:
Once you have a plan laid out to complete your project, it will make for an easier and less stressful experience, and also improve the quality of your work, leaving you more satisfied. In the course of a lifetime, an average person spends around 13 years of life at work. When spending that amount of time doing something, it is better to stay satisfied with what you do.
4. Better budgeting:
No project can be fast, cheap and good – that's the fundamental of a project. If something is fast and cheap, it will likely be low in quality. If it's cheap and good, it will probably be slow to complete. If something is good and fast, it will likely be expensive. With project management courses, you will be able to manage your resources better. If you need something to get done well, you will know to contract the job early on so it can be completed at a slower pace at a lower price.
5. Meeting deadlines:
Statistics show that around 40% of the people experience some loss due to procrastination. When managing one project becomes tricky enough, multiple projects handling will throw a spanner in the works! Project management courses will help you strategising your work better while providing the most value to your projects and helping you avoid procrastination.
Conclusion:
Even when you are not working in a project management field, most things you do in your personal and professional lives can be categorised as a project and can be handled easily. You can learn strategies, tools and tips from pros by undertaking a project management training course from LBTC. Learn more about these courses by surfing through our website.